San Francisco as seen from Treasure Island the day after she left
After returning from Las Vegas, we had two relaxing days at my house in El Dorado Hills. Then a full final day planned in San Francisco, as my happy group of visitors did not leave for Hong Kong until 1:20 a.m. They would rest in Hong Kong for two days before returning to Seoul.
As I knew we would all be tired from exploring the city, I reserved an airport hotel room so that they could relax for a few hours before their late flight. That proved to work well for all of us, as I could spend the night and drive home fresh the following day.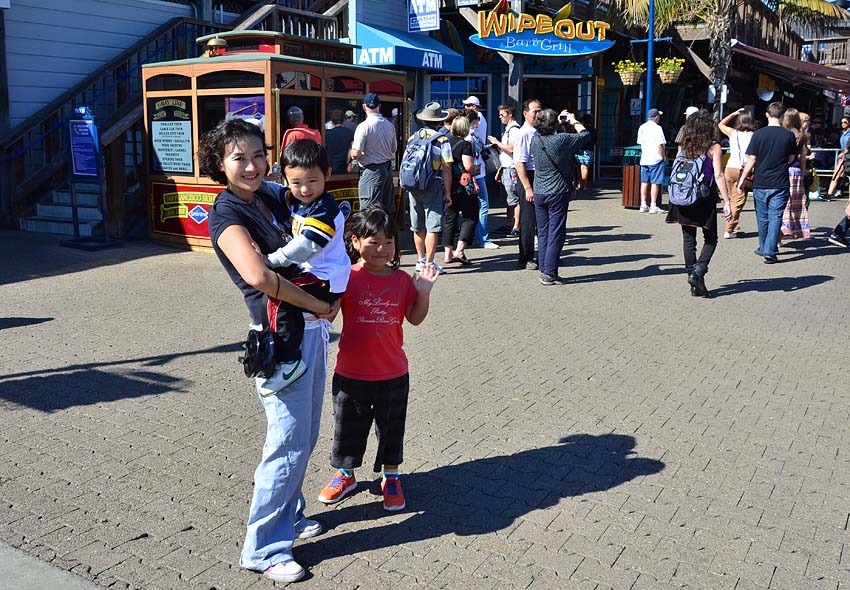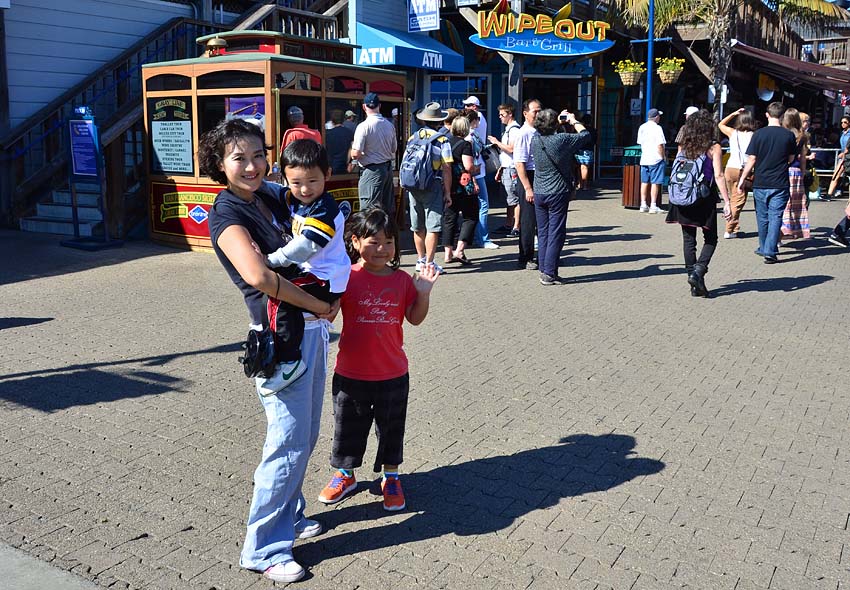 San Francisco's most famous attraction – Pier 39
The day was as good as it gets for this magical city – sunny and warm, breezy and just a handful, rather than the hoards, of tourists. We have a long relaxing lunch at the end of the pier with a table providing spectacular views of the Bay. We opted for an open tour bus to save time as the day came to a close. We witnessed the sunset over the Pacific Ocean after viewing the Golden Gate Bridge.
By sundown we were out of the chill and back in the warm comfort of my little bimmer, winding through the city streets to the airport hotel. The city was just becoming alive.  After check-in they all napped, and I ordered a ton of food for room service. We all feasted in the US for a final time. Finally a few hours of quiet time in the room before their departure.
Then the sad reality hit us about 11:15 p.m. as we piled into my car for the short trip to the airport. Check-in went smoothly and sooner than we wanted we were at the security gate. I could go no further.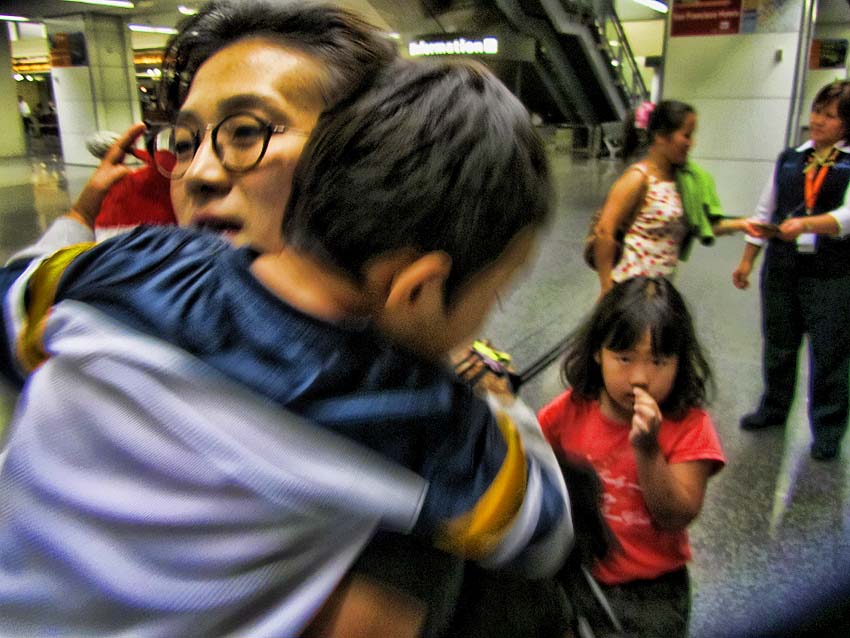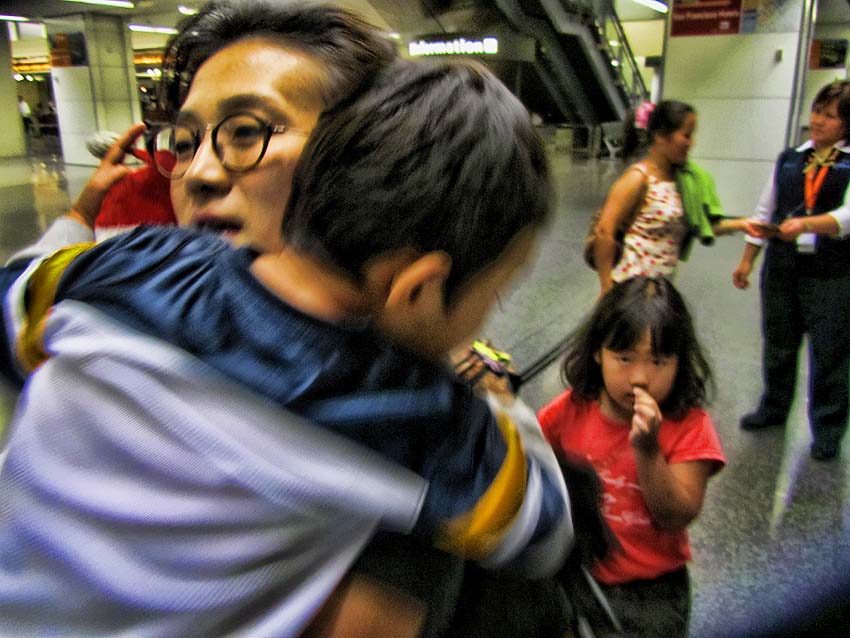 Our final moments together
I managed to hold back my tears during final hugs and kisses. They waved to me as they passed through security until they were out of my sight. She called me twice before leaving to thank me for this wonderful adventure. I could hear the sadness in her voice.
Then she was gone. I was all alone again.
My big house seems quite empty as I write this. Yet I am fine – many adventures for us all are to come. For now, I can bury myself in my work. And the Bay, Lake Tahoe and Yosemite are but a few hours away for the weekends. But oh how I miss her.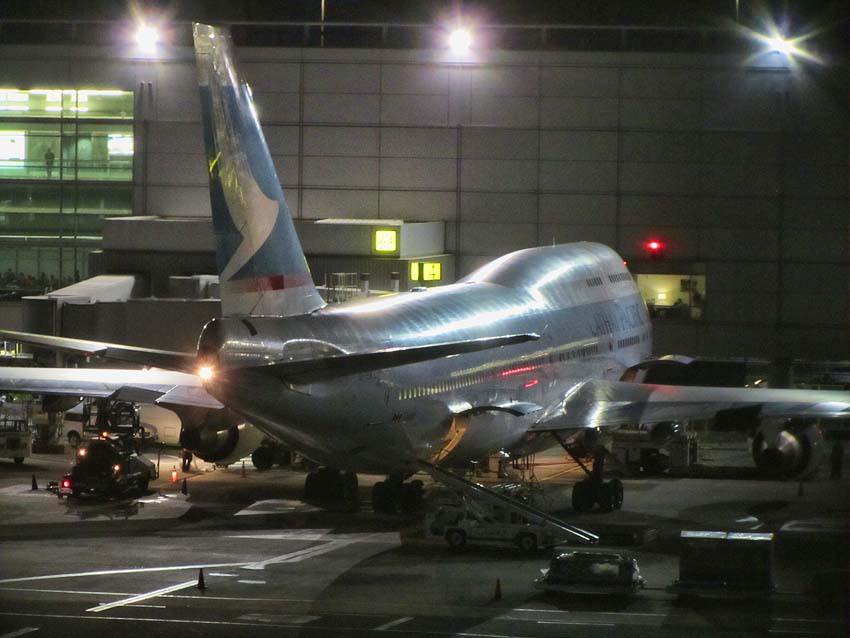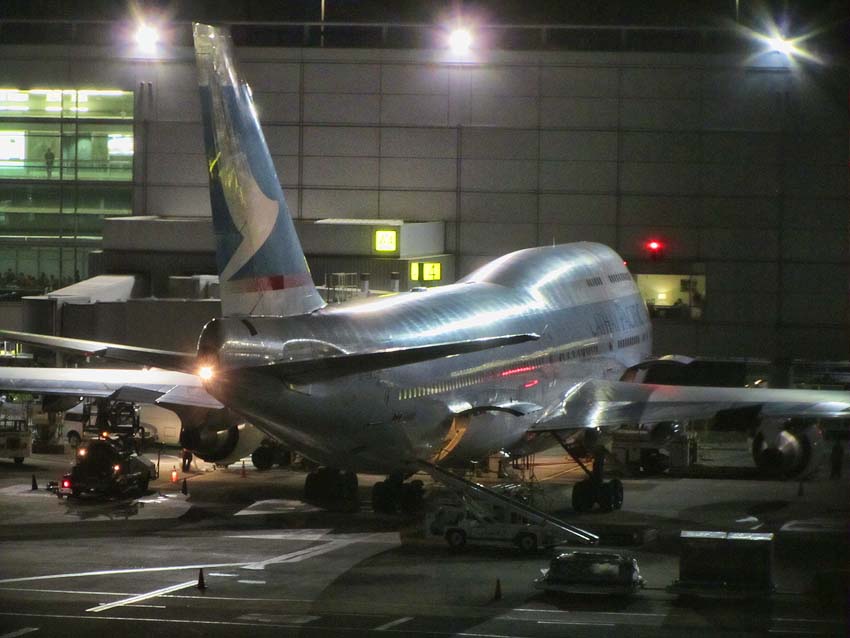 The Cathay Pacific 747 that would take them to Hong Kong
The loveliness of Paris seems somehow sadly gay
The glory that was Rome is just another day
I've been terribly alone and forgotten in Manhattan
I'm going home to my city by the bay
I left my heart in San Francisco
High on a hill it calls to me
To be where little cable cars climb halfway to the stars
The morning fog may chill the air, I don't care
My love waits there in San Francisco
Above the blue and windy sea
When I come home to you, San Francisco
Your golden sun will shine for me